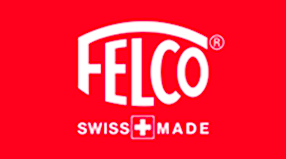 Swiss Precision, Made to Last
Since 1945 FELCO of Switzerland designed and manufactured professional pruning and cutting tools. FELCO offers a range of one and two hand pruning shears, wire cutters and power assisted pruning shears. Pruning saws, VICTORINOX horticultural knives and accessories such as leather holsters and maintenance equipments complement FELCO product line. All FELCO products are design to be use intensively by professionals in horticultural domains such as arboriculture, landscape maintenance, nursery, plant propagation and viticulture.
Thanks to the quality of materials used and the precision of each component, all replaceable part such as blades and spring are extremely durable but also easily interchangeable. The multitude of models offers for every type of activity, morphology and budget the best ergonomic and productive solution.